Data Analysis Foundation For Business Transformation
Data Analysis Foundation for Business Transformation
Use data to your organization's advantage. Drive your initiatives to success. Increase your knowledge and use of data by leveraging proven Data Analysis and related best practices.
In a 2-Day 14 PDU/CDU/CEU industry agnostic setting, our most popular course prepares you to choose tools and approaches to working with data toward better business decisions and measurements. Organizations need to make business decisions more quickly and accurately than ever before. Basing these decisions on data and best practice analysis techniques and less on gut feel or "the way we have always done things" is how today's corporate management is demanding information.

A solid foundation of data analysis for Business Transformation and Decision Making are critical skills you should have regardless of whether your motive is to obtain or sustain a competitive advantage or simply better steward your resources to serve customers. In this course, you will learn to use data analytics to create actionable recommendations, as well as identify and manage opportunities where data-based decisions can be used to change the way you do business.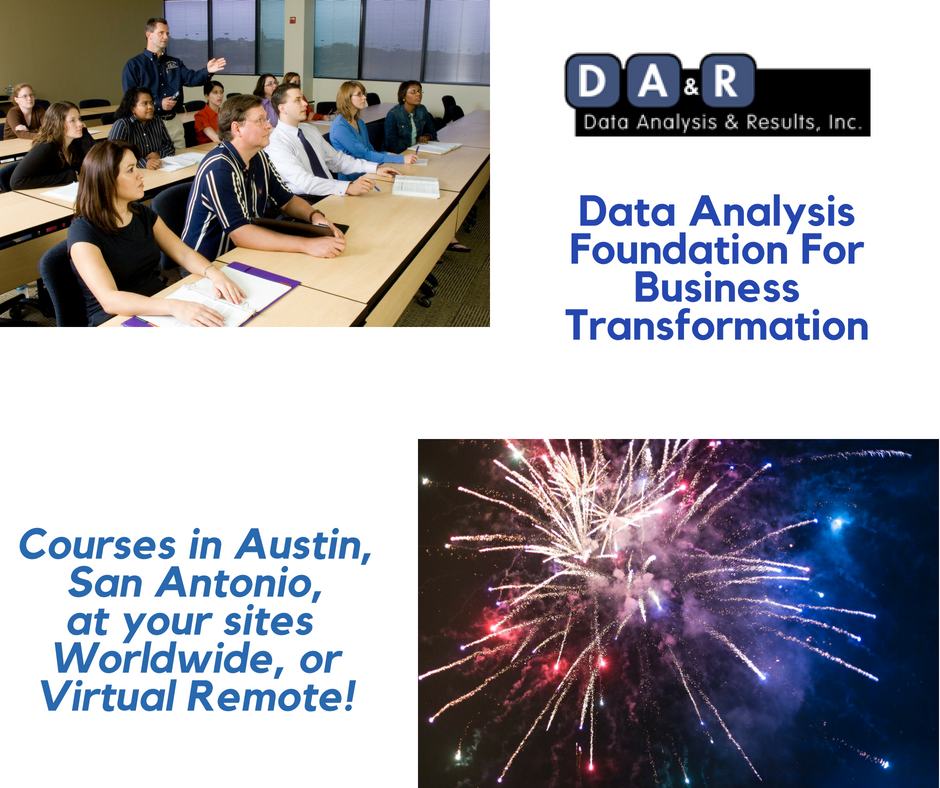 This course is packed full of instructional discussion and materials complemented by carefully chosen videos, examination of industry materials, proven best practices, and exercises in which the participants will gain insight into the practical application of the material. Be prepared to discuss and analyze some of your own challenges with identifying and quantifying the risks associated with decision making and forecasting future results.
It introduces you to many and useful common data analysis tools with simple exercises: Excel add-ins, standard deviation, Random Sampling, and introduction to Pivot Tables and Charts will help you effectively demonstrate basic data analysis functions and reporting in Excel or Google Spreadsheets. You will learn how to gather, analyze, and adapt your data to feed your organization decision making. You do not need heavy Excel, data analysis, data science, or analytics experience.

We leave out or simplify math jargon and complex symbols and equations to concentrate on what your data can tell you and your organization. You will learn how to present to those executives, managers, and subject matter experts who need to quickly make decisions that drive your organization forward. We will discuss how firms, nonprofits, and government agencies get value from Data Analysis, and the tools they use to gather data. These tools include Project Management, Risk Management, Document Management, Business Analysis, Data Modeling, Data Reporting and more. We take time for each learner to address their data analysis questions and challenges.
This course has value for those who seek a better understanding of topics around Data Analysis who want to increase their analysis, data, presentation, and decision support skills, capabilities, and knowledge. You get a course workbook with information to customize and use. Using many exercises and discussions, you will build a plan to implement what you learned back on the job. Flexible delivery options can address your specific challenges, tools, and goals during the course.
Authored and Delivered by
Data Analysis & Results
experienced Senior Instructors and Consultants.
Training Duration




& Format

Training Benefits

Training Delivery




& Locations

Flexible Delivery Options
Onsite or Virtual Remote Instructor

Our materials can be tailored, customized to your tools, or off-the-shelf
See https://www.dataanalysis.com/training/course-calendar for this and other course dates

Austin, San Antonio,
your sites, or

Virtual Remote



Workshop
(#-days vary)
Onsite

Our materials, planned with your staff, crafted into productive sessions to plan and detail out how your staff will benefit. Your team will build a useful Implementation plan in the workshop.
Includes:
DA&R complimentary online planning session to
collaborate on course tailoring to meet your goals.
Follow-up group coaching call(s) to ensure momentum and reinforcement.

Austin, San Antonio,
or your sites world-wide

All DA&R courses and services can be delivered onsite or Virtual Remote in any time zone for world-wide Learner consistency.
Public, Virtual, blended learning, or at your site. Customizable to your needs. May include multiple on-site and virtual live instructors to maximize Learner experience and points of view.
Contact Us To discuss tailoring this course and any services to meet your needs.
www.dataanalysis.com/contact To register or call +1-512-850-4402.
www.dataanalysis.com/course-calendar For course Schedule.
Course Overview


Constantly Developing Your Skills is key to improving the performance of your staff and organization. Well-trained and confident staff will decrease costs, reduce repetitive problems and escalations, and reduce staff and customer frustration. Increasing specific Staff Competencies including Data Analysis and Leadership skills should be a key goal and metric for your organization.


In this course, we use in-class discuss of best practices and other interactive exercises to increase Learner skills to be readily applied in the workplace. Whether your staff are local or remote, this comprehensive course covers the data leadership and management topics you need to perform better and lead others to increase their performance.

This program contains highly interactive and modular course units. The course is enriched with engaging discussion questions from best practice and real-life situations. Through the interactive role-play and many other exercises, Learners will improve their ability to quickly handle most staff and communication situations.
Improving your and your staffs' skills and knowledge ensures that you have a demonstrable solid foundation of Leadership and Management experience that can be readily applied in the workplace.


Suitable for a wide range of professionals, para-professionals, and recent graduates.

| Related Services & Resources | Click to Access |
| --- | --- |
| CHANGE MANAGEMENT - BUSINESS TRANSFORMATION Services | |
| | |
| 3 Whys to use Business Transformation Change Management Blog | |
Request Onsite Training
Are you looking for ways to improve your firm, nonprofit, or government agency? DA&R can help your organization excel with Agile, Project Management, Business Analysis, and Leadership Learning, Consulting Services, and Staffing. We offer flexible and tailored solutions. See our Testimonials and world-wide client list! We have trained and consulted in 25+ countries.

Contact Us or 1-512-850-4402 or Info@DataAnalysis.com to determine if an onsite tailored course, Customize Your Programor our services can solve your organization problems.
Valuable For The Following Professionals

Skill Areas: Data Analysis, Data Analytics, Data Management, Leadership, Management, Operations, Process Improvement, Methods, Metrics, and more...

This program is designed for people of all levels and experience eager to learn about and improve their Data Knowledge and Leadership skills.

Those interested in growing their Data Analysis Skills and Results

Senior Leaders, especially Data Managers, seeking to evaluate courses for all data, business, and staff analysts in their organization

Aspiring Data Leads, Managers, and Senior Managers

Data Analysts, Business Analysts, Operations Analysts

Those who want more responsibility and to be more effective

Managers of Functions that use or should use Data more effectively
Program Managers, Project Managers, Process Managers
Agile Managers, Development Managers, & Tech Leads
Those preparing for promotion
External and Internal Consultants
First-time Managers and those who seek increasing responsibility
Why Data Analysis & Results (DA&R)?

We share in your success! Your Challenges Are Our Passion! Our consulting and courses are consistently rated excellent, as are our very experienced Consultant Instructors, who average 20+ years in Project Management, Operations, and other key Leadership roles. For organizations, we can support your projects and change efforts via Consulting, Speaking, Training, and Staffing. Here are our Testimonials, Clients, and Course Calendar for our popular professional development education training courses.

For individuals, we provide advice and limited job placement help if you are seeking employment. Here is our blog that is updated with current job search tips and resources job-search-career-enhancement-for-professionals.
15 Benefits of Attending This Training Course




Learn the terms, jargon, and impact of business intelligence and data analytics
Gain knowledge of the scope and application of data analysis
Understand the impact of analytics on gaining competitive advantage and decision support
Explore ways to measure the performance of and improvement opportunities for business processes
Review the basic principles, properties, and application of Probability Theory
Discuss data distribution including Central Tendency, Variance, Normal Distribution, and non-normal distributions described in appendices
Introduction to different methods for summarizing information & presenting results including charts & persuasive text
Learn about Statistical Inference and drawing conclusions about a Data Population
Learn about Sample Sizes and Confidence Intervals and Limits, and how they influence the accuracy of your analysis
Learn about Forecasting, including introduction to simple Linear Regression analysis
Gain knowledge to interpret and accurately report your results and draw sound and relevant conclusions
Explore different methods and easy algorithms for forecasting future results and to reduce current and future risk
Be awarded PMI® Approved PDU®s, IIBA® Approved CDU®s, or other continued education credits
Refresh your Process Improvement and analysis skills
Know where powerful reference material and tools exist and how to leverage to enhance your decision making
Fast Improvement for Operations, Project Management, and Business Analysis
via Consulting, Process Improvement, Staffing, Speaking, & Training
Professional Education Focus Areas - Learning Outcomes


We take time for each attendee to discuss their own data analysis questions and challenges and how they impact the day-to-day operations in their organization. We will discuss how other businesses, non-profits, and public sector agencies get value from data analysis and the tools they use to gather data. These tools include project management, risk management, document management, business analysis, data modeling, data reporting and more.
The course will provide insight into the future of analytics and the changing roles of those performing roles such as Business Analyst, Operations Analyst, Project Manager, Department or Division Manager, and IT functions. You will understand steps needed to implement a Data Analysis Plan for your organization and begin your plan during class. You get a comprehensive electronic Workbook with all presented material and lots of explanatory notes.The participants will know how to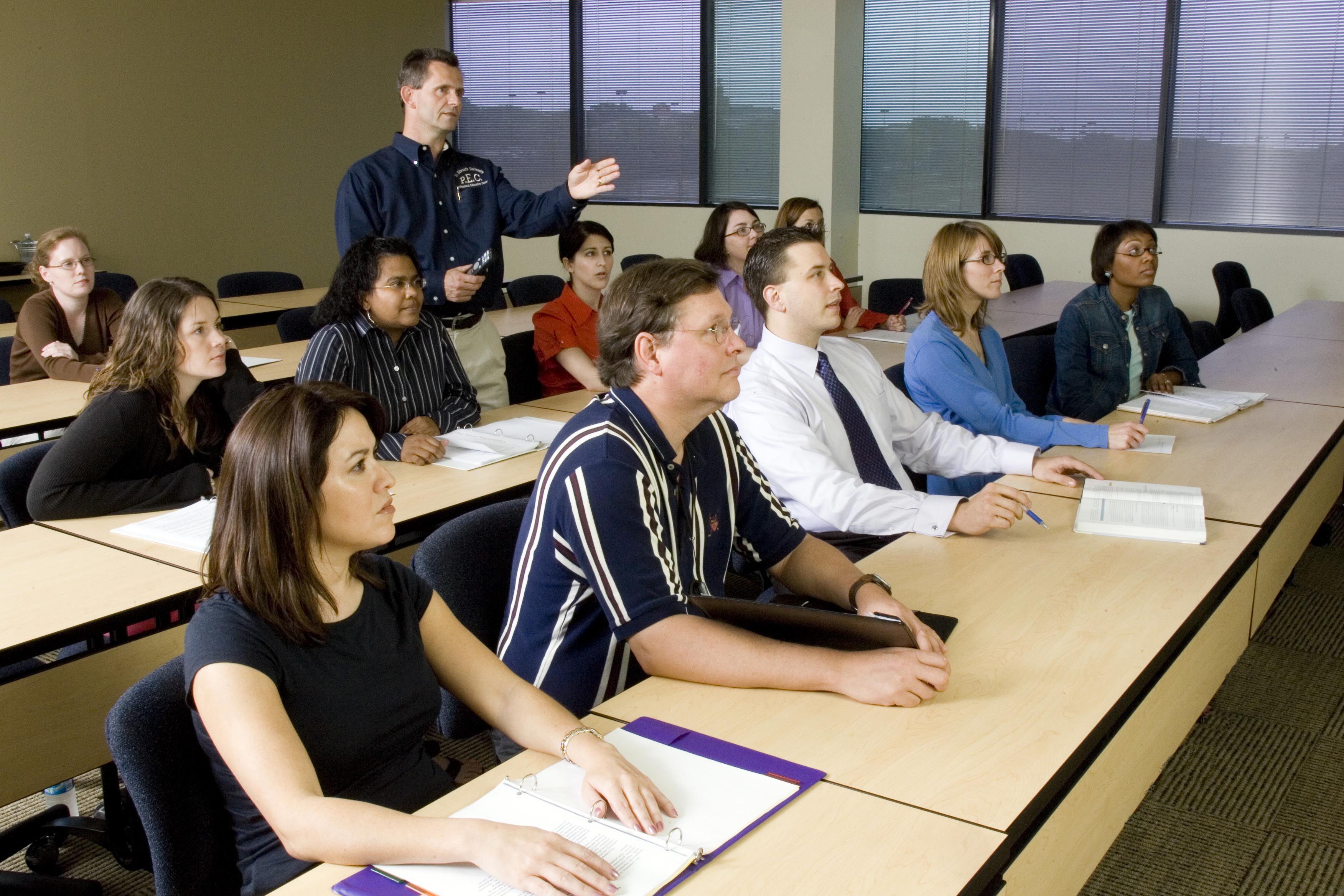 Learn the essential techniques and methodologies used to gather and assess data
Learn how to make recommendations based on sound data analysis and analytics principles
Learn how to identify your real problems based on established qualitative and quantitative models and to enhance the accuracy in communicating Root Causes of performance deviations
Identify, quantify, and reduce uncertainty or Risk in making your decisions and forecasting future events
Provide the foundation to find and document data requirements of your organization
Support key management decisions by identifying significant trends and correlation between business results and controllable vs. uncontrollable variables
Be better prepared to communicate reasons to use data analysis techniques, with strengths and weaknesses
Gain the knowledge and skills to establish business process metrics and use them to track and report performance
Present your draft plan for adoption of Best Practice Data Maturity, Responsibility, and high ROI Analysis processes and techniques
How to recognize value from the most common data analysis processes, tools, and techniques
Perform various exercises to reinforce key learning concepts







Certification Formal Education Hours

& Continuing Education Credit

Qualifies for 14 PDU®s for Project Management Institute® PMI® Project Management Professional® PMP® and Agile Certified Practitioner® PMI-ACP® and other accreditations

Qualifies for 14 CDU®s for International Institute of Business Analysis® IIBA® Certified Business Analysis Professional® CBAP® and CCBA® and other accreditations


Qualifies for 14 SEU®s for Scrum Alliance® CSP® Certified Scrum® and other accreditation

Course authored and delivered by DA&R Senior Consultants and Instructors so you can be assured of highest quality.
Accreditation


BABOK Guide Knowledge Areas Covered: Elicitation, Requirements Life Cycle, and Underlying Skills.
PMBOK Guide Knowledge Areas covered: Risk, Human Resources, Stakeholder, Integration, and Communication.

Course Agenda

Introduction and Logistics

Course and Learner Introduction, Goals, and Logistics
Develop your own customized Action Plan

DA&R's Agile & Integrated™ (A&I™) set of Best Practice Tools

Introduction to Data Analysis and Analytic


Rethinking the of Value and Usage of Data

Data Mining and Data Warehousing

Data Distribution and Variance

Describing Information Needs

Data Exploration Concepts and Methods

Forecasting

Course Close - Final Questions

Best Practices Revisited

References & Resources

Next Steps Options: Short-Term vs. Long-View Strategic Changes

Low Hanging Fruit and High ROI Options

Evaluation
The Fine Print
Our consultants don't just communicate information. They include best practices to encourage Learners to assess your situations, use data analysis and other best practices, collaborate, take the right actions, and help you make fast, appropriate decisions to drive real results.
Here's just a bit of what our alumni have to say from our Testimonials
"Instead of giving instruction and sending us on our way, you helped us with starting a realistic approach that we can take back to the office and use immediately."

- Sr. Project Manager, with over $275m of construction and software projects, large State of Texas government agency
"We realized the first day that we were our own worst enemy. Come ready to change and you will benefit greatly from this business analysis training. We will bring Darrel and his team in-house prior to our next big project."
- Sr. Director, leading Non-Profit Software Vendor
All courses may include multiple on-site and virtual live instructors to maximize Learner experience and points of view.
Agile & Integrated Business Analysis (A&I BA), WEDIAKPO2!, and DA&R are trademarks of Data Analysis & Results, Inc.
IIBA, IIBA logo, BABOK, Business Analysis Body of Knowledge®, CBAP, Certified Business Analysis Professional, Certification of Competency in Business Analysis, CCBA, Endorsed Education Provider, EEP, and EEP logo are marks owned by International Institute of Business Analysis.
PSM, PSM I, PSM II, PSM III, and Professional Scrum Master and logos are marks owned by Scrum.org.
PMBOK Guide Knowledge Areas: Integration, Scope, Time, Cost, Quality, Human Resources, Communications, Risk, Procurement, Stakeholder. PMI, PMP, CAPM, PMI-ACP, and PMBOK are registered marks of the Project Management Institute, Inc.