Lean Six Sigma Foundation and Best Practices
Professional Training Summary
Learn the Fundamentals of Lean Six Sigma for practical, real world project use. Discover how to identify candidates and plan for Lean6σ projects in your organization to reduce cost and increase productivity.Lean and Six Sigma methodologies (Lean6σ) have been around since the late 1980's. Even so, many of us have little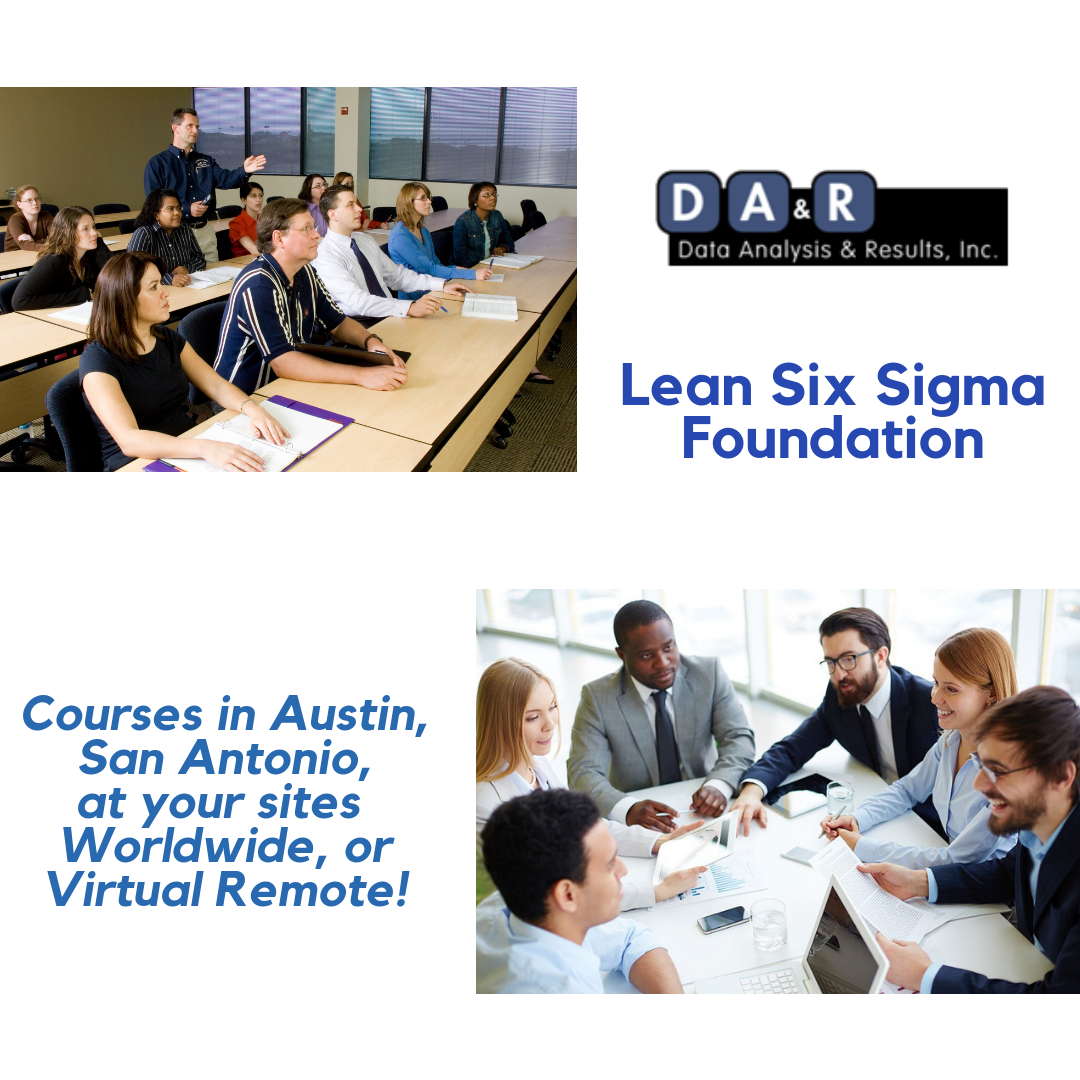 experience applying Lean6σ within a project management structure or within our organization. This course will provide you with an understanding of Lean6σ basics and the value they bring to the right type of projects. You will gain a vision for how to choose productive projects to apply Lean6σ. This course is designed for those considering Lean6σ projects future Lean6σ team members, managers who provide staff for or are otherwise affected by Lean6σ projects, and anyone wishing more understanding of Lean, Six Sigma, and how to apply these concepts via powerful process improvement projects.
Even well run organizations have operations and project areas where improvement is not only possible but becoming mandatory to keep up with the current high expectations of doing more with less, international competition, and flattened management levels. Changing market conditions, reduced budgets and staff levels, long working hours, increased available metrics, high turnover, and other influences demand our continued efforts to improve our processes, projects, and results. You can use the skills gained in this course to form a plan for your personal development to guide, participate in, or even lead projects using Lean6σ techniques.
Training Duration & Format
2-days Instructor Led at our Site, your Site(s), or Virtual Remote. This course and all DA&R courses can be delivered Virtually in any time zone for consistency for your world-wide Learners.
Request Onsite Training
Are you looking for ways to improve your firm, nonprofit, or government agency? DA&R can help your organization excel with this course or a blend for a customized training program including Agile, Project Management, Business Analysis, and Leadership Learning. We offer flexible and tailored solutions. See our world-wide client list!
Contact Us or 1-512-850-4402 or Info@DataAnalysis.com to determine contents for your onsite, Customized Course Program to fit your organization.
Valuable For The Following Professionals
Anyone involved in operations, project management, business analysis, or management would benefit from this class. This training course is perfect for:
Business Analyst, Business Systems Analyst, CBAP, CCBA
Systems and other Analysts
Business customers, users, support staff
Project Manager, Team Leader, PMP, CAPM
IT Lead, Manager, Director, VP
Finance Analyst, Manager, Director, VP,
Operations Analyst, Supervisor, Manager, Director, VP
Fast track managers in all areas
External and Internal Consultants
Risk Managers, Operations Risk Professionals
Process Improvement, Compliance, Audit, and Staff, Thought Leaders, Transformation Champions
Executives exploring cost reduction and process improvement options
Vendor of consulting firm staff seeking to adapt their offerings to Lean6σ projects
Anyone wanting to enhance their process, measurement, and operations improvement skills
Helpful Experience
College degree, or 1+ years of professional experience in commercial, government, or nonprofit organizations, or our Project Management Foundation course or similar.
Professional Education Benefits
Upon completing this course, participants will be able to
Discover Lean6σ techniques to process improvement, integration, and new product projects.
Learn the common language and terms of Lean6σ learning areas, projects, and professionals.
Learn the basics of DMAIC Define, Measure, Analyze, Improve, Control methodology.
Assess if Six Sigma and Lean processes are a fit for your organization.
Understand the various Lean, 6σ, and Lean6σ designations such as 'Green Belt', 'Black Belt'.
Refresh your basic statistics and process improvement skills without the full effort of certification.
Understand where Lean6σ may yield increased revenue or decrease product and service expenses.
Learn how to work with Lean6σ staff, consultants, and vendors and key Lean6σ roles.
Find if Lean6σ Green Belt or Black Belt training is right for you or your organization.
Be awarded PMI® Approved PDUs, IIBA® Approved CDUs, and other continuing education credits.
Contact Us to discuss customizing for your staff.
Why Data Analysis & Results (DA&R)?
We share in your success! Our courses are consistently rated excellent, as are our very experienced Consultant Instructors, who average 20+ years of performing on projects, operations, and as many types of leaders. For organizations, we can support your projects and change efforts via Consulting, Speaking, and Staffing. For individuals, we provide advice and some job placement help if you are seeking employment. Here is a summary of some of our services, testimonials, and upcoming open enrollment professional education training courses. We train and consult in 25+ countries.
Certification Exams Formal Education Hours & Continuing Education Credit
Qualifies for 14 PDU®s for Project Management Institute® PMI® Project Management Professional® PMP® and PMI® accreditations
Qualifies for 14 CDU®s for International Institute of Business Analysis® IIBA® Certified Business Analysis Professional® CBAP® and CCBA® accreditations
Course Agenda
Introduction
Introduction to Lean Six Sigma use on Projects

Exercise: Lean Six Sigma Knowledge

History of Business Process Improvement

Quality: TQM & Deming

Six Sigma Overview

Lean Thinking Overview

Theory of Constraints Overview

Incorporating into modern Lean Six Sigma
Six Sigma Program and Project Overview
Lean Six Sigma Programs

Options: Full Organization, Division or Group, Department, Proof of Concept

Exercise: Discuss and Present Your Program Intent

Lean Six Sigma Projects

Change Management of Lean Six Sigma Projects

Anticipate Potential Challenges in moving to Lean Six Sigma

Performance Metrics

Exercise: Discuss and Present Your Process Improvement Idea(s)

Exercise: Draft Your Lean Six Sigma Goals

DMAIC Improvement Model
Define

Measure

Analyze

Improve

Control

Exercise: Discuss and Present Your DMAIC Understanding
Good Project Characteristics
Project Definitions

Defined Intent

Supporting Data

Proper Project Scope

Valuing a Project

Exercise: List Criteria for Lean6σ Projects

Lean Six Sigma Program Structure

Programs
Lean Six Sigma Tools
Basic Statistics for Lean Six Sigma Overview

Exercise: Demonstrate Average and Spread using Histogram

Lean Six Sigma Desktop Tools

Other Lean Six Sigma Tools

Exercise: Survey of Tools Available to You
Example Projects
Service Industry

Financial Industry

Manufacturing Industry

Government Industry

Sales Industry

Exercise: Create and Present Your Project Proposals
Lean Six Sigma Implementation Topics
History of Lean6σ Project Implementation

Business Structures

Staffing Models

How to Create Plans for Deployment

Lean Six Sigma Tools

Lean6σ Programs and Projects

Exercise: Lean Six Sigma Knowledge

Implementation Challenges

Next Steps Options
Close & Additional Resources and Exercises
Six Sigma Green Belt Program Description

Six Sigma Black Belt Program Description

Exercise: ABQ! (Adopt, Bright Spots, Quit)

Lean Six Sigma Reference Materials

Exercise: Evaluations and Networking
Course Close - Final Questions
Best Practices Revisited

References & Resources

Next Steps Options: Short-Term vs. Long-View Strategic Changes

Low Hanging Fruit and High ROI Options

Evaluation
The Fine Print
Our consultants don't just communicate information. They include best practices to encourage learners to assess a situation, use data analysis, collaborate, take the right actions, and make appropriate decisions to drive real results.
Here's just a bit of what our alumni have to say:
"Instead of giving instruction and sending us on our way, you helped us with starting a realistic approach that we can take back to the office and use immediately."
- Sr. Project Manager, with over $275m of construction and software projects, large State of Texas government agency
"We realized the first day that we were our own worst enemy. Come ready to change and you will benefit greatly from this business analysis training. We will bring Darrel and his team in-house prior to our next big project."
- Sr. Director, leading Non-Profit Software Vendor
All courses may include multiple on-site and virtual live instructors to maximize Learner experience, flexibility, and points of view.
Agile & Integrated (A&I), WEDIAKPO2!, and DA&R are trademarks of Data Analysis & Results, Inc.
IIBA, IIBA logo, BABOK, Business Analysis Body of Knowledge®, CBAP, Certified Business Analysis Professional, Certification of Competency in Business Analysis, CCBA, Endorsed Education Provider, EEP, and EEP logo are marks owned by International Institute of Business Analysis.
PSM, PSM I, PSM II, PSM III, and Professional Scrum Master and logos are marks owned by Scrum.org.
PMBOK Guide Knowledge Areas: Integration, Scope, Time, Cost, Quality, Human Resources, Communications, Risk, Procurement, Stakeholder. PMI, PMP, CAPM, PMI-ACP, and PMBOK are registered marks of the Project Management Institute, Inc.