Change Management - Business Transformation
Oftentimes, Change Management is not planned or emphasized. Organizational, Business, Group, or even Team Changes or Projects should be planned and executed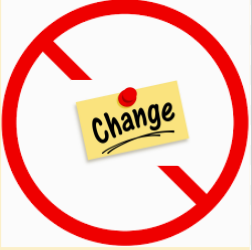 using Change Management. Experience is needed to help you plan and implement your Change effort right the first time! If you have seen prior efforts that just do not 'stick' regardless of their possible benefit to the organization, you will likely need to apply Business Transformation Change Management strategies and tactics.
How do you identify the efforts that require Change Management planning? Here is a tip: they all do! Some much more than others. A good rule of thumb is to apply Change Management planning and implementation as 7-10% of your project budget... Part of Change Management is Risk Management so that figure can be leveraged as you address your Risks... Please note that for best results your effort will need Changes both during the effort and afterward.
Change Management - Business Transformation Strategy
These services are for DA&R clients who have the desire, the passion, and the need to transform their processes for the better. Whether your need is compliance-driven, process-improvement driven, or comes directly from executives, you need to achieve speedy and lasting results with minimum friction.
Service Solution

Service Description

No-cost Consultation

For those who want to discuss prior to deciding which other services are warranted.


We set up a meeting using screen share technology such as Skype, Google Hangout, or other service. Sharing your screen could be helpful to show relevant information on the internet or your organization's files or other information.


You prepare for the virtual session by gathering your thoughts and materials to support your need or opportunity discussion. Think about your problems and opportunities yet be open to alternatives to your initial path.






Change Management Assessment Services

For those who want to gather information and opinions before authorizing implementation services.

We agree on the topics and audiences for the initial assessment. Audiences normally cover executives, line management, staff, and internal and external customers where appropriate.



DA&R

drafts interview questions for each audience.


We meet to validate and improve questions.



DA&R

executes interviews onsite and remotely if needed.


If warranted, repeat above steps with a Survey for wider distribution.



DA&R

reviews interview and survey information to draft and present Assessment Recommendations.


You review Assessment Recommendations and authorize Recommended Services and internal actions.





Change Management Planning Advisory

Services

For those who want to start with independent planning guidance for Change Management.




We agree on the general planning approach and deliverables for the pilot planning sessions.

DA&R

drafts the Change Management portion of planning session agenda and prepares questions for distribution and information gathering prior to the planning sessions.

DA&R

leads the Change Management portion of planning sessions onsite and updates appropriate documents and processes.
We collaborate on detailed planning approaches.

DA&R

leads and participates as agreed. Deliverables include recommendations for Change Management steps and actions including time and cost estimates.
You review Recommendations and authorize Recommended Services and internal actions.





Change Management Leader

and Staff Services

For those who want a Senior Consultant to guide your Change Management efforts.




We agree on engagement terms such as the level of seniority needed, estimated duration, role (Executive, Leader, or Support Staff), and participation (fractional, interim, full-time, contract, or permanent) of

DA&R

staff.


You agree to and authorize payments, security, and other access for

DA&R

staff.



DA&R

Principal Consultant guides each engagement and will be actively involved.



DA&R

staff performs Leader and staff roles on Change Management efforts.


You review progress, support change efforts where needed, and authorize proposed changes as appropriate.





Get started now with your no-cost consultation Contact Us

Our fully-customized services, provide a structured approach and framework to optimizing both your effort and your results from your business transformation. Many organization transformation efforts lack effective change management, causing delays, increased costs, and delayed or never-found business benefits. Our approach to change is based on achieving measurable outcomes to drive value by ensuring executives, management, staff, and customers are aligned in their expectations by being engaged throughout the Change process.
Our experienced consultants and interim executives will provide exceptional commitment and focus to your change agenda. We use a seven-step framework to defining and planning a business transformation:




Assess Current:

Organization, processes, people, and results
Expectations for Change, adoption, and results

Formulate Recommendations that may include

Setting formal project status with clear shared expectations
Training on Change Management, Business, and Technical areas
Change Management Planning for both Strategies and Tactics
Program Management Strategy Phased or Immediate Implementation
Immediate and periodic reinforcement via measures and persuasion



Benefits to working with DA&R for your Change Management effort

Each Change Management effort is tailored to your organization
Quick hits and long-term savings are both addressed
You don't have the time, the expertise, or the desire to perform a thorough Change Management effort on your own
You know Change Management is critically important to your effort's success
It has been on your "to do" list, or you address a small area here and there but don't have the time to do a comprehensive Change Management effort
We have trusted relationships with dozens of vendors we can leverage for you if needed to cost-effectively bring in special resources







All DA&R courses and services can be delivered onsite or Virtually in any time zone for world-wide Learner consistency.
Contact Us to discuss this or other DA&R services
| Related Services & Resources | Click to Access |
| --- | --- |
| Business Transformation Change Management course | |
| | |
| 3 Whys to use Business Transformation Change Management Blog | |
.