Read Blog
DA&R Expands and Enhances Its Learning Portfolio with DA&R Live Class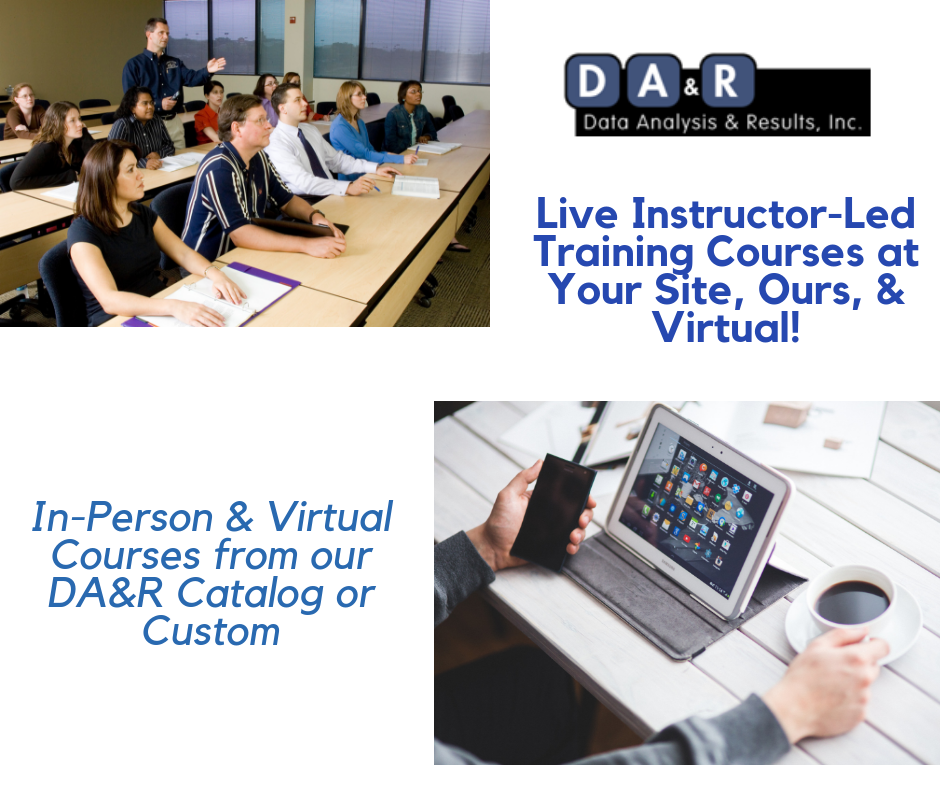 DA&R Expands and Enhances Its Learning Portfolio with DA&R Live Class
Read below for information on how to take advantage of virtual and in-person best-in-class training...
Data Analysis & Results announces our new learning platform, DA&R Live Class. This new, broader portfolio of virtual training courses allows learners to join classes in real time, with instructors and participants interaction, video, so they can enjoy a more interactive professional training experience.
Read on to discover more about our online, live, and in-person education offerings and how we can help you save time, money, and keep your people up to date with both custom and our DA&R catalog of professional education courses that all contain best practices.
Let's review your Training Assessment, Customization, & Delivery needs now!
Contact Us to set up a
Training Assessment, attend a private briefing on how we deliver Virtual Training, or so arrange a course or program.
DA&R is ready to do the hard work of assessing, developing, and delivering real operatings results via enhanced professional training.
Why DA&R Live Class?

You need flexible learning options for you and your staff.
Learn anywhere!

Experience the benefits of live, instructor-led classroom instruction at your location in-person, at one of our training centers, or at any commercial location around the world. Live, instructor-led classes are now available anywhere using state-of-the-art Virtual Training Technology. Attend in-person or Remotely from your computer, tablet, and other devices with DA&R Live Class. DA&R uses leading technology so you will reap all the benefits and personal contact of classroom instruction right from your desktop.

This convenient format allows for less disruption by reducing travel time and expenses. Allow your people to reduce travel hassle and days spent away from work and home. You get the same important content and instructor direct interaction as you do in our physical classroom but with the convenience and cost effectiveness of remote online attendance.

This type of direct instructor and learner interaction is proven to enrich the overall learning experience, boosting attention and retention.

To provide this interactive environment for learners and instructors, DA&R uses training solution software from Zoom Video Communications Inc., a Gartner Quadrant leader. Zoom technology is free for attendees, robust, easy to use, and requires little setup when using any browser. Zoom offers a best-in-class virtual remote learning experience regardless of learner location.
Learners can participate in DA&R Live Class from anywhere, anytime, and on most Internet-enabled devices. The instructor-led learning provides immediate expert feedback, individual learning support, and interactive collaborative exchanges with peers during the sessions and anytime via discussion groups.

Experience Live Virtual Remote Training
DA&R Live Class Live Virtual Training is also an excellent option for teams, including distributed, non-local, geographically remote teams. Discounts are available three or more.
Want to know more? Contact Us to attend a private briefing on how we deliver Virtual Training. Your brief, no cost, no-obligation private briefings allows you to experience our DA&R Live Class Virtual Learning Environment. There are no expensive equipment requirements and our training is as easy on your bandwidth as is possible.

By offering virtual classrooms, DA&R provides one more option to acquire important critical skills toward a successful digital transformation, career enhancement, and results via operations process improvement.
| | |
| --- | --- |
| Have Virtual Workers or Multiple Locations? Best Practices suggest using a group room at each location for Virtual Training works best. Consider using one laptop and projecting on a screen so your attendees in each location can attend as a group. Benefits include much higher attention rates than staff taking training at their desk as they will be working on exercises in a true group setting. Other benefits include bandwidth savings and better learning through local collaboration. | |
All DA&R courses and services can be delivered onsite or Virtually in any time zone for world-wide Learner consistency.
Contact Us to deliver this course on non-consecutive days to allow Learners to implement best practices between sessions.
| Related Services & Resources | Click to Access |
| --- | --- |
| Customize Your Program for In-Person and/or Virtual Training | |
| Training Assessments - Comprehensive or Specific | |
Most Important
Make sure your Training Provider is selected with an eye towards the real results you will gain from a program, not just a training class. You may want to use a blended training solution with in-person on-site or training center courses along with Virtual courses to pick up absentees, new hires, and remote staff. This can be a handy way to ensure your training effort is budgeted from both time and cost perspectives.
We are happy to assist you via consulting for Training Planning, Course Customization, and of course Training Delivery anywhere in the world for just the right fit for you.
Why Data Analysis & Results (DA&R)?
We share in your success! Our courses are consistently rated excellent, as are our very experienced Consultant Instructors, who average 20+ years in project management, operations, and other key leadership roles. For organizations, we can support your projects and change efforts via Consulting, Speaking, Training, and Staffing. For individuals, we provide advice and limited job placement help if you are seeking employment. Here are our Testimonials, Clients, and Course Calendar professional development education training courses.
Contact Us to discuss your Training needs now!
DA&R is ready to do some of the hard work of training planning and delivery for you.
#Training #ProfessionalEducation #Courses #Virtual #Classes #Remote
We can all use a little encouragement so remember to give encouragement to others!
"Therefore we do not lose heart. Though outwardly we are wasting away, yet inwardly we are being renewed day by day. For our light and momentary troubles are achieving for us an eternal glory that far outweighs them all." - 2 Corinthians 4:16-18 NIV.
---
‹ Back